5++, A fantastic historical fantasy/PNR romance. HOT.
Yum, yum, yummy!!! Seriously, as GOOD AS IT GETS!!
Silhara of Neith, yum!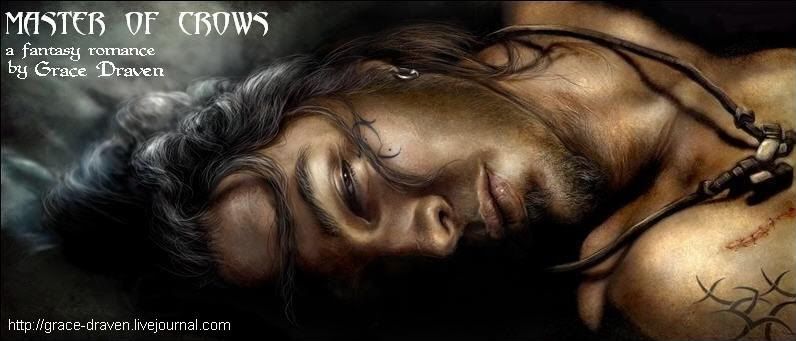 I loved this one. Master of Crows is a wonderful fantasy/PNR romance with a great balance of rich world building (felt like a medieval/Persia kind of world, loved it), mixed with a solid, steamy hot romance and great chemistry between the H/h (Silhara of Nieth, the Master of Crows, and Martise of Asher, a slave girl with an unexpected magical gift).
This book paints an intricate world with Gods, priest clans, mages, giants, soul eaters (and other creatures) living among ordinary humans. They are all subjected to the harsh conditions brought on by the evil God of Corruption. Only Silhara can stop this great enemy, but he needs the help of Martise to translate old tombs that holds the secret he needs.
The story often had a darker feel to it, yet it kept surprising me with bits of lighter humorous moments that would make me grin ear to ear. Silhara and Martise had some of the best dialogue between each other, and his relationship with his Giant servant and his smelly dog were a hoot.
Initially Silhara and Martise are enemies that must work together, and then they slowly built a relationship that was so strong and believable.
Some great quotes I highlighted:
Martise to Silhara when he questions her ability to be any help:
"Yes, Master. I've worked among livestock all my life, including cows, pigs, goats…and asses."
Silhara to Martise:
"Your singing can be used as a torture method, but you've a fine laugh." His voice smoothed to a silky rumble. "You should laugh more often."

Martise blushed at the unexpected compliment. "Thank you. You sometimes make me laugh." She hastily corrected herself in case he misconstrued her comment. "Not at you, of course."

"No, of course not." Amusement threaded his voice.
Silhara to Martise:
"Why are you here?" He spoke the words into her mouth, his tongue flicking briefly across her upper lip.

She smothered a moan. "Because you wanted me." Lean hips pressed into hers, the bulge of his erection nestling against her thin leine, coaxing her to widen her stance. She obeyed, sighing her pleasure at the feel of him between her legs.

"No truer words."
I loved how the relationship was never lost in all the world building, including Silhara's need to strike down the God of Corruption and battle his enemies.
Silhara really is one of the best romance heroes in my eyes. I love the strong alpha type hero but can't stand it when an author turns him into a brooding ogre. Silhara was simply fantastic as a strong hero that was not afraid to admit his feelings for Martise (despite plenty of effort to resist her). He was so hot! Martise was great too. I loved how she would put him in his place at times. They really worked as a couple, and the HEA at the end was refreshing and so well deserved. In short, I thought the writing was simply amazing. Grace Draven has a new fan.